Every Woman Dreams...
In 1560, William Copeland printed the fragments of the various Robin Hood folk dramas. The "plays" were likely performed by mummers and strolling players for a century or more before Copeland printed them.
A Gest of Robyn Hode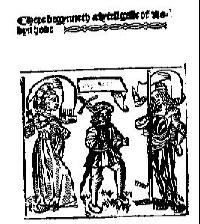 A Gest of Roby Hode has been known by a variety of of titles. It is one of the earliest Robin Hood stories, likely written in the late 1400s. It is about 14,000 words in length. 
A "gest," according to Dictionary.com, means a tale of adventures; especially:  a romance in verse; an adventure, exploit, or knightly gests.
Wikipedia provides us a brief overview of the tale. "A Gest of Robyn Hode" is Child Ballad 117; it is also called A Lyttell Geste of Robyn Hode in one of the two oldest books that contain it. It is one of the oldest surviving tales of Robin Hood [and] shows every sign…
View original post 972 more words